Now, before we go any further, a Victorian skirt-lifter was an item of apparel and NOT a man with wandering hands. They were  decorative and fashionable, but they were a functional item as well, lifting hems out of the dirt. The hem wasn't meant to be lifted permanently, and so a proper skirt-lifter was an actual gadget. My friend Anne showed me one today, that belonged to her great-grandmother (GGM). Her device hooked into the waistband or belt and at the end of the chain was heart-shaped clip that gripped the hem of the skirt. The chain ran through the decorative loop at the waistband, and had two silver balls that were used to lift the hem up and down. It was quite beautiful, and utter perfection because it had a lovely story to go with it.
Her GGM acted as a lady's maid for a fine family in Suffolk. This family were friends with the royal family, and one of princesses used to visit with her family. Anne's GGM received the skirt-lifter as a gift from the princess at the end of a visit. I think this is a wonderful piece of history. I always feel that an item means so much more when it has a story.
I wanted to show you Anne's skirt-lifter in action, I couldn't find one like Anne's online, but I did find one very like it. Anne's is much prettier than this one. Modern cosplayers often devise skirt-lifters of their own, and usually leave their hem 'up' to display pretty underclothing and stockings. Alas, most of these lifters look more like suspenders clips than actual Victorian-era skirt-lifters. They are pretty in their own way, but don't have the same functionality and charm of the originals. As well, those clips would tear or fray delicate fabrics.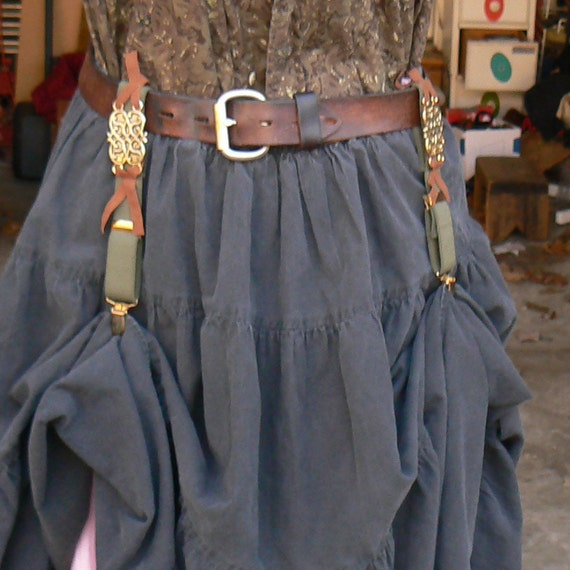 As a writer, I like to get the details right. Now that I know what a real skirt-lifter looked like, I can write about it with confidence. I know they were at their most popular from the 1870s to the 1890s, which is right in the era when my own Steampunk novel is set.